I recently got some bluetooth earbuds for using on Zoom for Windows. Here's a super tip
Bluetooth connects to computers 2 ways. "Headset AG" or "Headphone stereo". AG is 2-way (the earbuds are headphones and a microphone) while regular is 1-way (the earbuds are just a headphone). The problem is that when you do it 2-way, the sound quality in both directions is much lower, telephone quality.
The tip: set ALL of your sound outputs on your computer to go to the "regular" bluetooth device and use the microphone on your laptop. Now you have great sounding wireless headphones. It can be tricky to figure out how to change all the outputs. Here are the key ones for me:
In Zoom: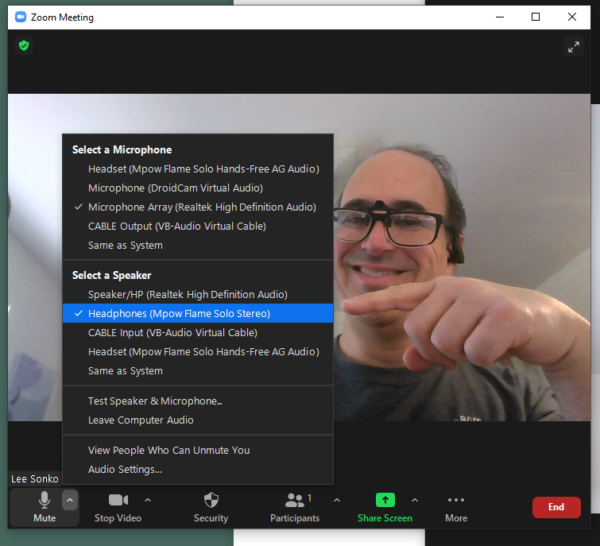 I selected the Speaker "Headphones (Mpow Flame Solo Stereo)" and not the "Headset (Mpow Flame Solo Hands-Free AG Audio)". And the the microphone, I selected the one built into the computer "Microphone Array (Realtek High Definition Audio".
In Windows, Click on the Speaker icon in the tray to get this menu and…
then click on the correct speaker like so:
Now (hopefully!) all of your audio outputs will go to your earbuds in high quality. Enjoy the cordlessness!