About Me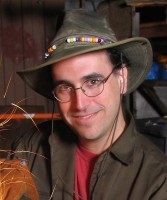 I'm Lee Sonko. I write here generally when I've found something I think is useful, unique or productive and I want to share it with the world.
Want to reach me directly? Send an email to Lee at Lee daht org.
About My Name
My parents are Lee Joseph Sonko and Marlene Sonko nee [redacted for "mother's maiden name" security]. My grandparents on my dad's side are Lehel Matthew Sonkovics (often went by "Lee Sonko"), and Irene Sonko nee Polachek. My grandparents on my mother's side are Ernest Ferranti and Ita Norvestoni (she went by "Ida", maiden name name changed from "Norvestoni" to "Westin" to Americanize it)
My dad's grandfather was Josef Sonkovics but the 1940 US Census noted it as "Sonkovits". "-vics" is Hungarian for "son of"; "-vits" is German for "son of". Since the family is from Hungary (a good guess would be the present day Croatian town of Sonkovic), the correct spelling is almost definitely "Sonkovics".
A Hungarian woman at the Crucible tells me of two possible spelling/pronunciations of the name:Sonko 1 and Sonko 2
Comments about my blog
"damn you for being such a good writer. i just spent an hour i don't have on your website." – Michael S.