About Me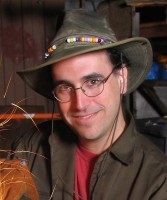 I'm Lee Sonko. I like to do stuff. I write here generally when I've found something I think is useful, unique or productive and I want to share it with the world.
Want to reach me directly? Send an email to Lee at Lee daht org.
About My Name
Lee: My father is Lee Joseph, before him was Lehil (often went by "Lee") Matthew Sonko, before him possibly Lee Edward.
Sonko: 2017, my dad tells me that the Sonko name was originally Sonkovic and that my grandfather was born in New Brunswick. I see there is a village in Croatia named Sonković. In 2009, we suspected that the Sonko name is originally from the Hungarian word for sled, "szánkó".
A Hungarian woman at the Crucible tells me of two possible spelling/pronunciations of the name:Sonko 1 and Sonko 2
Comments about my blog
"damn you for being such a good writer. i just spent an hour i don't have on your website." – Michael S.