I use Zoom on Windows a lot lately. I wanted cordless earbuds to decrease the number of wires at my desk so I went exploring. Here's my recommendation:
All of them have "ok"-ish microphones. When at my desk, I use the mic built into my laptop but sometimes switch to the built-in mike when walking around.
MPOW Flame Solo is the best bluetooth earbud for me
– $40 on Amazon

– They "just work". It has taken a little effort to figure out how to switch between my now multiple audio-out options on my computer, that isn't the fault of the earbuds. Syncing is easy, turning on and of is easy.
– audio quality for music is nearly as good as my wired earbuds, I use them for music
– The over-the-ear design means they stay on my head and I don't have to rely on squeezing the earpiece into my ear to stay on (like the Tozo T12)
– The volume and sound response (highs vs lows etc) is sometimes a little bit less than my wired earbuds. But look ma! no cords!
Tozo T12 is my second choice
– $40 on Amazon
– Also "just work."
– They work as well as the MPOW Flame Solo but the in-the-ear-canal design bothers me since there is something shoved in my ear canal! And they sometimes fall out when I make a big facial expression like a wide smile.
Jabra Evolve 65T was TERRIBLE
I thought these would be the best due to the company's reputation and their price tag but I was wrong!
– $220 on Amazon. What?? Yes!
— They occasionally make a very loud click in my ears. Once it happened when I walked away from my desk, maybe it lost bluetooth connection? Once it happened while I was trying to configure it. Earbuds should NEVER blast my ears with a loud click!
— The audio balance for music is often 90% to the left and can't be fixed. I googled around and found several forums filled with people saying "yeah, that's a problem. I called Jabra and they couldn't fix it." One fix seemed to work for some people: sticking a needle in the microphone port below the "R" on the right earbud and wiggling it around. I gently tried this (on my brand new earbuds) and it didn't work.
— I had a bit of trouble configuring them to work. Making the sound path from Zoom/Spotify/default computer audio to the speakers wasn't intuitive and the manual consisted of just 4 pictograms. I muddled through but a little more help from Jabra would have been nice. Here are some hints (that Jabra doesn't mention!): The Jabra "Sound+" app for Android can help you configure the earbuds… but some forums say it is responsible for the left-balance problem. You should get the Jabra Direct Windows program to set up the Jabra USB Link 370 USB Adapter.
Anker Soundcore Spirit X no good for Zoom on Windows
– $30 on Amazon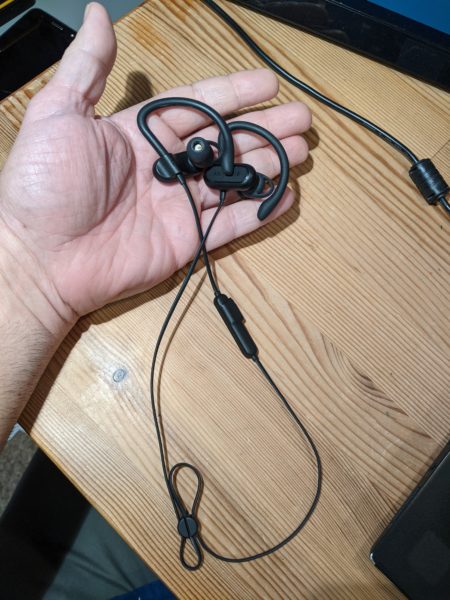 – They work great on my Android phone
– They sound about as good as the others. The two over-the-ear earbuds are tethered to one another. I had heard people say that a tethered design would make it so you don't lose one earbud; to that I say "Meh, just don't lose them!" I find the tether bothers my neck. When I turn my head, it catches on my hair a little and pulls at the earbud a little. I solved that by putting the cord over the top of my head, which makes me feel rather dorky!
– HOWEVER, they are no good for connecting to a Windows computer! They disconnect randomly. Many people online have said similarly that they don't maintain a connection. And there's no fix.
Old school wired earbuds
I still keep them near my desk because they sounds a little better than the bluetooth earbuds and they don't run out of battery. But the wires are a hassle.
PS. Luke, you were right all along!!
PPS. I should try Aftershokz bone conduction headphones. They have a boom mike and a good visual profile (I want to look normal-ish to my clients and not wear giant headphones)… thoughts?