When I browse my website logs, I sometimes find interesting trends. Usually I just find people that are hotlinking to my site.
They just love this image on myspace. I've been getting 4,000 hits a month on it for a good while.
The latest big thing is my family's Christmas tree.
It's apparently being sent around in a Yahoo email (example referer) and now it's popping up in blogs all over! Wee!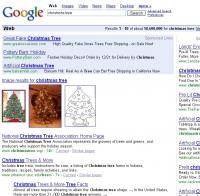 # of hits
5,000 November
23,000 December
15,000 The first 5 days of January
If you've seen this tree, do not attempt to apprehend. Just forward the email to me too!
Update 12-15-06: I've noticed the hit counts rise again this Christmas season. Mine is the second most popular Christmas tree on the internet!
Update 2-8-07:
Barbara sent me the final image of the ad. It was nice :-)