Wow.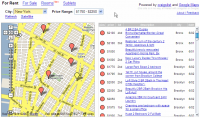 When I went looking for a newspaper to find an apartment in the Bay Area, I came up extremely short. Newspaper listings were very slim and the ones that were in the paper didn't look very good. That is when I realized that, in the Bay Area, print is dead.
If you want to find a job, a place to live, a relationship, a couch, most things… you go to Craigslist.
Now, taking this whole inter-web thing one logical step further: www.housingmaps.com
It's amazing. It's easy to use. It's…. obvious. After years of nobody thinking to put all these kinds of elements together, this match is (in hindsight) perfectly obvious and perfectly terrific.
The days of print classifieds for a variety of items are numbered.