If I see a correlation between two variables, is it generally correct terminology to say that one "predicts" the other? For example, in this chart, should I say that hours studied predict the grade received?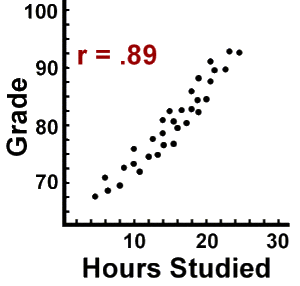 I would think one shouldn't say "predicts" because that is a one-way term. For example, it is possible that A predicts B but B does not predict A. Waking up 10 minutes before sunrise every day predicts getting to see the sunrise often, but seeing the sunrise often wouldn't necessarily predict your wake up time, especially if you work the night-shift.
I would say "there is a correlation between A and B" but without more research on the directionality of the relationship, I shouldn't say "A predicts B" or "B predicts A".
I'm asking because I've seen a few research papers that use this terminology and I wonder if I should adopt it.