There's like a gazillion classes going on at this mega-learning/hacking/building event!
Join me at Workshop Weekend!
I'm teaching "BeetleBots Zooming Everywhere!" on  Sunday, July 1st at 10:00am.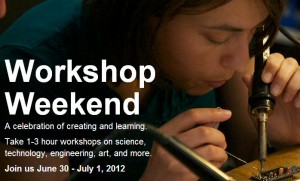 Workshop Weekend is a weekend-long event of short, 1 to 3 hour long workshops in subjects from exploring 3D modeling and printing, building a mini robot, and creating your own jewelry to making ricotta cheese and discovering DNA modeling! It's a festival of learning with more than 40 hands-on workshops to choose from, all taking place June 30 and July 1 in downtown Oakland — pay $30 and take as many workshops as you like! The weekend is a family-friendly gathering for kids and adults alike, bringing together arts, crafts and engineering workshops, all taught by the bay area's best makers.
Aaaand, use my coupon code to get 10% off admission:  BEETLEBOTS2012
Here's a partial list of the workshops being offered:
Cheesemaking: Ricotta
Creating 3D Models
Sewing by Machine
Royal Icing Flowers
Arduino Programming
Rainbow LEDs
T-shirt Silkscreening
…and like 30 more
Check out them all at  http://workshopweekend.net/catalog
See you there!