Went to Yerba Buena Center for the Arts in San Francisco when meeting M. Nuttmeg for the first time. The gallery show "Audience as Subject" was just fantastic. There is a lot of terrific art there! You should go.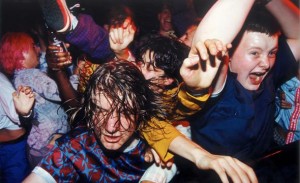 Here are some of my memories of the show:
A video of a crowd of men doing some kind of shoving/groupthink thing to some women. I don't know exactly what was happening and I was pretty bothered by it.(One does not necessarily "like" good art!)
A giant photograph of a rock band playing, well actually you could only barely see the band, the photo was about the 20,000 people in the audience all thrusting their attention forward. It was beautiful!
A larger than life photo of concert-goers totally in the moment of a rock concert, screaming and sweating and loving it!
A large screen showing (probably, it was hard to tell exactly) the running of the bulls in Pamplona with an infrared camera. The bulls were hot, the people abstracted, the masses of people looked more like flowing water than people. Completely awesome.
Lots of people standing in a stadium, flipping cards to make giant mosaics, FUN!
A room that, when you walk into it the lights change and the walls light up with drawings of a crowd cheering, and a soundtrack to match. It was as though we were dropped into a fighting ring, and it evoked that exciting / scary feeling that you'd think it would. AND the way the lighting was, it felt very much like M. Nuttmeg, the only other person in the room, was my opponent: very cool art!
A 10 minute video of a soccer match… well, we never saw the match, it wasn't about the match. It was about the audience cheering and waving flags, doing waves, gyrating and undulating like a crazed sea of humanity on the verge of exploding into violence. For much of the video, it was very uncomfortable, worrying about whether we'd be trampled if our team started to lose. But then I envied how passionate everyone was about their team. It was very intense and cool!
A very curious and energetic 2 image piece from China
Then upstairs!
A 2-piece suit, briefcase, shoes and Blackberry, dissected! All the parts splayed out on the wall! Curiously totally cool. It reminded me of how deceased butterflies are displayed.
A short movie titled Dogsled, which was my favorite piece of the whole show, partially because it was this crazy mix of serious, goofy, childish, and quaint; partially for personal reasons. We see a woman driving a "dogsled team" of faux-fur covered remote controlled cars in a wooded park in Tokyo. The team is pulling the wheeled sled she is sitting on across a parking lot while it snows lightly. (Mai Yamashita & Naoto Kobayashi, Dogsled, 2008, rt: 5:23)
Two notable things: I wouldn't normally recall everything so vividly. This show rocks. I was struck that the show didn't involve any kind of permanent collection. This show stands on its own, firmly on it's own merits. Hats off to the curator! Oh, and it was just seven bucks to get in, crazy inexpensive for such a great day.
This is a simply stunning show. You should go.