The front page of Boston.com as well as the Eagle Tribune report: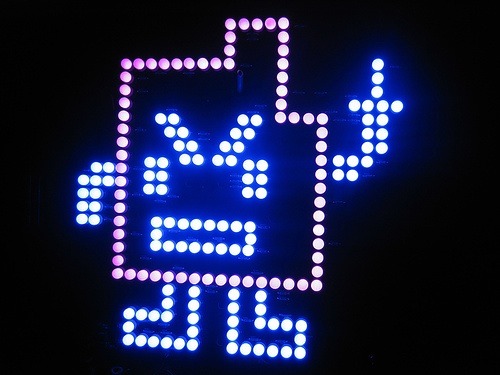 Public safety officials are not laughing and a 27-year-old immigrant from Belarus is going to end up in front of a judge for planting illuminated electronic devices throughout the Boston area that brought out bomb squads and raised fears of terrorist attacks.

The first of the devices were found early yesterday afternoon at a subway and bus station underneath Interstate 93, forcing the shutdown of the station and the highway. They turned out to be part of a nationwide publicity campaign for a late-night cable cartoon by Turner Broadcasting. Most of the devices depict a character giving the finger.

Peter Berdovsky of Arlington was arrested last night on one felony charge of placing a hoax device and one charge of disorderly conduct, state Attorney General Martha Coakley said. He had been hired to place the devices, she said.
Here is how to make the terrorist devices in question
Just to be sure you get it: 2 artists were arrested and given felony charges for putting up blinky-art around Boston. The police thought the (12″ x 12″ x 1″) blinky-art were bombs so they closed down the city. The police even blew up a couple of them just to be sure.
TJIC, add this to your Boys in Blue file.