Andre tagged me. So… 5 things about me that most people don't know….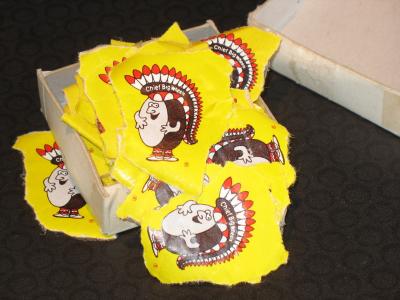 When I'm having stressful weeks, I sometimes talk in my sleep
I never use nail clippers on my fingers. I bite instead.
I am proud that I can eat an ice cream cone without a single drip
I have a collection of Chief Big Wheels. In high school, one of the kids I sat with, George Karl once tore up the Chief Big Wheel from his package of Big Wheels (cousin to Ding Dongs and Ho Hos). He said something like that he hated them and wanted to destroy them all. In response I (of course) took the Chief Big Wheel from my package and said that I loved them and was starting a collection. Every day, the more he told me how he hated them, the more I'd -need- to collect them. My collection has grown to about 70. That's about 140 Big Wheel treats! Yum!
I have a secret super-hero identity where I wear the letter "R" on my chest. I'm called Resourceful Man! No, really.
I don't really feel comfortable tagging others. But if you are reading this and saying to yourself, "Bring it on!" Consider it "brought"!