I caught Cookie Mongoloid at 12 Galaxies last night. It was awsome. They are a Cookie Monster – Sesame Street Speed Metal Cover Band, heavy on the art of the performance.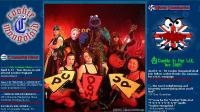 notes
– Metal renditions of Sesame Street classics work well for me
– Double barreled, air powered cookie shotgun!
– Cookie Uzi – it jammed on stage so no cookie uzi for us :-(
– I got their leather studded cd "Blood + Cookies"
– Mongoloid fans have good, if gentle mosh pits
– "What body parts start with 'C' ? Me can only think of 2 things. One thing is 'colon'. Me not say what other thing is." !!!