I'm buying a laptop for a client.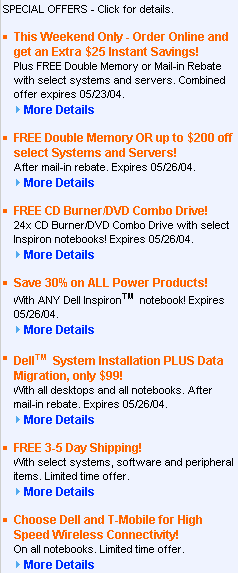 I'm shopping on the Dell website, trying to find out how much the laptop is going to cost with a particular feature-set and I can't do it. There's shit like:
Right now, double your memory FREE (1) when you purchase ANY Dell system or select Dell servers! OR, choose cash back instead of more memory and save up to $200 on select servers or $150 on select systems, after mail-in rebate!(2)

(1) Double memory offer can not be combined with mail-in rebate. Maximum memory is 256MB with Dimension 2400 desktops and 512MB with Dimension 4600, 4600C and 8300 desktops, all OptiPlex desktops, all Dell Precision� workstations, all Latitude notebooks and Inspiron 1150, 5150, 300M, 600M, 8600 and 9100 notebooks. Maximum memory is 1GB with Dimension XPS desktops, Inspiron XPS notebooks and all PowerEdge and PowerEdge SC servers

(2) Mail-in rebate excludes Dimension 2400 and 2400 n series desktops with an Intel Celeron processor. Offer valid on orders placed between 05/20/04 and 05/26/04. Cannot be combined with free memory offer. Rebate must be postmarked within 30 calendar days of system ship date. Rebate checks are ordinarily processed within 8-10 weeks. Go to http://www.dell.com/smallbizrebates for rebate details.
When you cut through all the shit above, it comes out to: When you buy a computer, extra memory costs extra.
Of course, it also means that when you're trying to tally up the price, you get shit like what you see at the far right. How am I supposed to feel confident about pushing that Continue button when I can't tell how much the (rather expensive) item costs!? All I do know from this page is that my purchase is not going to cost $1226 or $1201. I might (or not) be eligible for any one of 7 advertised specials on this one computer. The list of specials takes up the entire right column of this journal entry! And each and every special has convoluted rules (see quote above) that has to be thoroughly understood before being embarked upon. What a nightmare.