If you are bothered by flickering lights and can get to Portland, Oregon in the next month or so, please join this research experiment! If you know someone that is bothered by flickering lights, tell them about this research project!
This is important research that will help science understand more about the light flicker some people see in car tail lights, building lighting, LED string lights, and other places. The research will help characterize people's response to it, which will ultimately solve this modern scourge!
The experiment is happening in-person, in Portland, Oregon, in mid-January to mid-February (please disregard what the flyer says for timing, email for actual dates!).
PNNL Lighting Lab Flicker Experiment Recruitment Poster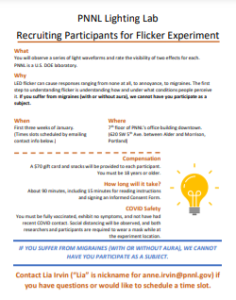 What the heck am I talking about? Look at my Flickering Light Project website.
If you're interested but can't attend, I'd still love to hear from you in the comments below! This coalition to improve lighting is slowly gaining momentum and every voice is important!