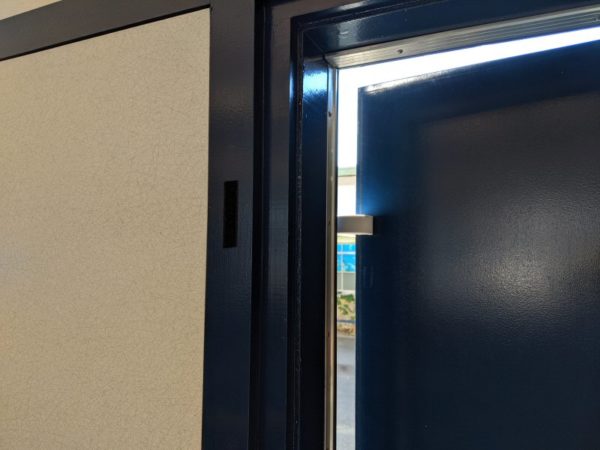 Problem: At my school, I often want to keep my heavy, automatically-locking door open just a crack so I and the kids can get back in. Using a traditional wedge door-stop works but it often gets stepped on, kicked or misplaced. Now I use these pinch guards. When not in use, I use Velcro (AKA hook and loop fasteners) on the wall to keep them close-by. All-in, they cost less than $4 per door and they work very well!
Self Adhesive Hook and Loop Tape (Velcro)
Some tips and notes:
Use long pieces of Velcro on both the pinch-guard and the doorway, it makes it easier to stick them to the wall quickly.
For the Velcro, remember to put the "soft on the surface". It makes it easier to feel the rough part on the pinch guard and it's good to establish that as the norm in your room, you can stick objects onto fabric (a good stand-in for soft Velcro).
The glue on the velcro didn't hold to the pinch guard perfectly so I added staples.
I had tried similar, popular horseshoe-shaped pinch guards but they didn't work well on my thick door with a strong closer.
It's nice that this white pinch guard is easy to see on the door from a distance. Regular doorstops can be hard to see.
Update 10-29-19: These pinch guards are standing up to normal use but not rough abuse from my students in my classrooms. A student doesn't have to be strong to tear it apart. I've come across a very sturdy rubber-plastic door pinch-guard but I don't know where to buy more! Where can I buy more of these? They were apparently provided for all the classrooms when one of my schools was renovated in ~2007. See the photo to the right. This doorstop would be too heavy to hold in place with velcro so maybe the solution above is best.