This Open House is really going to rock. There are a LOT of fun sciencey demos going on, with fire and sparks and pretty shiny things, and darn-it, it's free!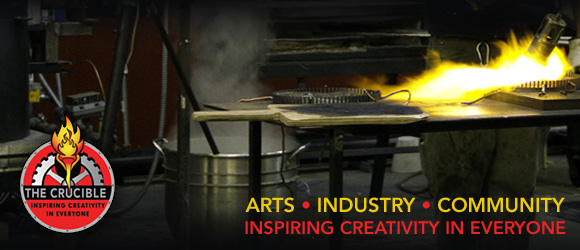 Spring Open House
"The Science of Art"
April 7th, 2012, 12pm-4pm
Free Admission.
Join us for the "The Science of Art" at The Crucible. For our Spring Open House, we roll up our industrial strength doors, and welcome our community to explore arts, industry, community, and science. Some of the most innovative instructors in the Bay Area create fantastic art in our 56,000 square foot facility. In "The Science of Art", we will be exploring chemistry, physics, and other mad sciences. Watch as molten metal is poured, discover dazzling glass blowing, and watch as molds are transformed before your eyes.
Spring Open House
"The Science of Art"
April 7, 2012,  12pm-4pm
Free Admission
In the tradition of the school science fair, we will have displays, demonstrations, and more exploring of the science of art!  This exciting event is an opportunity for all to discover how the processes in science tie into the different mediums taught at The Crucible. We not only safely play with fire, but we do it scientifically as well!
A fun day for the whole family! Our open houses are a wonderful way to experience the excitement of The Crucible's 56,000 sq. ft. studio, where furnaces roar and sparks fly. Catch amazing fiery performances and wander through our student and faculty art show displaying the creativity of The Crucible.
Spring Open House Event Highlights:
Intriguing demonstrations combining science and art, including the Science of Fire, Venturi Effect, Ruben's Tube, Harmonograph, Die Moto Bio-diesel motorcycle display, mysteries of steelmade visible, Raku firing, bicycle physics and other fascinating experiments in action
Thought provoking guest exhibits by Tech Shop and Chabot Space & Science Center.  Also, Ron Hipschman, Exploratorium staff physicist, will give a lecture and demonstration about many ways to make color, from neon signs to oil slicks, to rainbows and more
Amazing molten metal pour in our foundry
Fiery stage performances by our fire performance faculty & students
Live music by Oakland-based ensemble,  Gamelan X
Spectacular art show spotlighting work from Crucible students, faculty & staff
Beautiful handmade art for sale by Crucible artists
Eye popping discounts on Crucible classes
Nifty bicycles for sale in The Crucible's Bike Shop
Tasty food and drinks
Chances to win free tuition for a Crucible class!
Demonstrations
The Crucible is truly unique with seventeen fine and industrial art disciplines under one roof. We will demystify the science of art with demonstrations and exhibits in every area. Instructors, students, guest artists and scientists will be on hand to answer your questions.  
Check out a map of our studio!
Art Show
Each spring we show off what we do here with a spectacular art show. Come to see artistic pieces from Crucible staff, students, faculty and volunteers. The art showcases pieces created in  our industrial arts classes. During the open house, you will be able to vote on your favorite three pieces.  Free tuition on a Crucible class will be awarded to the winning artist.
Handmade Art for Sale
Discounts on Crucible Classes
New students who sign up for a spring class during the Open House, will receive 20% off class tuition. All members who sign up will receive 25% off. Become a member at our open house and get 25% off any class you register for that day.
Bicycles for Sale  
Looking for a great deal on a bike? The Crucible Bike Shop has a selection of quality, used bicycles that have been fully rebuilt by our youth and volunteer mechanics. Stop by the bike shop during the open house for a test ride, or contact
jcavagnolo@thecrucible.org
 with questions or to make an appointment. In addition to getting a sweet, reliable ride, your purchase supports our youth Earn-A-Bike Program, and our Community Bike Fixathons.  
Learn more.