Now that I'm a student, and I can get to all my classes and volunteering by train and such, I'll be selling my car. Of course, I figure I've got to fix the car up enough so that the Check Engine light stays off first. And then it's all Zipcar, BART and biking for me.
So I bought a bike. At $630 complete, It should pay for itself in the first month or two of not having a car (my car costs about $600/month to own!).
Isn't she pretty?

And when she gets stolen, I'll tell people:
Body: 2011 "Fuji Absolute 3.0″ hybrid. Color: Grey with orange on the inside of the chain stays and underside of the seat stays. Serial ICFU12I01883. That serial number could be mistaken for ICFU12IO1883. 21″ frame. 23.6" back to front. Aluminum.
Seat: Black with an orange swish. It is secured to the frame with a length of wire.
Wheels: "Fuji Aero-V 25 700C/622 Etrto". Both the front and rear wheel are secured with Pinhead Locks locking wheel hubs.
Update 2/13/13: I also got a Pinhead seat post lock and saddle lock. And apparently a Gator Grip tool can defeat these locks so Pinhead now gives away a locking washer thing on their website that prevents that problem.
Tires: "Panasonic Panaracer Pasela Tourguard 700x32C", black with tan sidewalls.
Update 8-21-13: Rear tire is now a Continental Touring Plus 700Cx32, black with black sidewalls and a reflective tape.
Accessories:
Kickstand: On 8-23-13 I added a Greenfield Rear Mount Stabilizer Kickstand, adding 14 ounces to the bike. I tried adding a regular Greenfield kickstand but it had the same problem that ALL regular kickstand have, all the way back to when I was a kid: no matter how hard you tighten it down, the mount sometimes swivels on the bike, messing everything up.
Rack: made by Axiom, mostly to hold my Kryptonite lock.
I've registered the bike on Bikeshepherd.org and I got the 30 year registration with the National Bike Registry. Yowza, will they even have bikes in 2042? Or will we all have jet packs?
.
.
.
For the little I've ridden around, she rides like a dream. Of course, my last bike was a POS. I originally had a moderately crappy Burning Man bike. But at Burning Man 2009 it got stolen. After the end of the event, I went to center camp and stole a comparably crappy bike from the abandoned bike pile. When I was there, I got into this evil-eye discussion at center camp with a guy stealing his own bikes, but that's a story of another time…
The new bike was actually quite a step down from my old bike. The steering was loose such that it was best to not steer too quickly, the front brake had virtually no grab, the handlebars had rolled down into an awkward position, the bike was several inches too small for me (I had extended the seatpost to it's limit to no avail), it had big inefficient knobby tires, the rear brakes only worked moderately well, and it had been spray painted (partially and poorly) an awful shade of brown. That is how I rode it on the playa and that is pretty much how I rode it for 2 years. It's a good thing I didn't ride it often, otherwise, I'd be dead now. It is now terrorizing some kind soul at the San Francisco bike kitchen.
————————————————–
Specs from the Fuji Bikes website.
Specification:
SIZES	S (15"), S/M (17"), M (19"), M/L (21"), L (23")
COLOR(S)	White/Red, Semi Gloss Gray/Orange
MAIN FRAME	A2-SL alloy w/ tear drop down tube, double water bottle mounts (on SO frame only)
REAR TRIANGLE	A1-SL alloy, forged road dropout w/ replaceable derailleur hanger
FORK	Elios 1, 1 1/8" fork w/ CrMo steerer
CRANKSET	Fuji alloy forged 28/38/48T
BOTTOM BRACKET	Sealed cartridge bearing ST
PEDALS	Alloy cage w/ Boron axle
FRONT DERAILLEUR	Shimano FD-M191, 31.8mm
REAR DERAILLEUR	Shimano Altus, 8-speed
SHIFTERS	Shimano Acera
CASSETTE	Sunrace 11-32T, 8-speed
CHAIN	KMC Z72, 8-speed
WHEELSET	Fuji alloy 32H QR hubs w/ Fuji double wall alloy 32H rims
TIRES	Hutchinson Flash, 700x28c
BRAKE SET	Tektro Mini-V, forged alloy
BRAKE LEVERS	Tektro alloy
HEADSET	Fuji 1 1/8" standard semi-cartridge
HANDLEBAR	Fuji alloy
STEM	Fuji adjustable alloy
TAPE/GRIP	Fuji double density kraton
SADDLE	Fuji sport comfort
SEAT POST	Fuji micro-adjust alloy, 300x27.2mm
FENDERS	N/A
HEADLIGHT	N/A
TAILLIGHT	N/A
REAR CARRIER	N/A
OTHERS	7075 alloy water bottle bolts
WEIGHT	25.39 / 11.52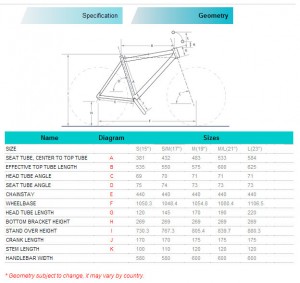 Geometry:
Name		Diagram			Sizes
SIZE			S(15")	S/M(17")	M(19")	M/L(21")	L(23")			
SEAT TUBE, CENTER TO TOP TUBE	A	381	432	483	533	584			
EFFECTIVE TOP TUBE LENGTH	B	535	550	575	600	625			
HEAD TUBE ANGLE	C	69	70	71	71	71			
SEAT TUBE ANGLE	D	75	74	73	73	73			
CHAINSTAY	E	440	440	440	440	440			
WHEELBASE	F	1050.3	1048.4	1054.8	1080.4	1106.5			
HEAD TUBE LENGTH	G	120	145	170	190	220			
BOTTOM BRACKET HEIGHT	H	269	269	269	269	269			
STAND OVER HEIGHT	I	730.3	767.3	805.4	839.7	880.3			
CRANK LENGTH	J	170	170	175	175	175			
STEM LENGTH	K	100	110	120	120	120			
HANDLEBAR WIDTH		580	580	600	600	600