Today I got a comment spam from someone claiming that Fungusil works for them. I did some homework and… it screams "scam".
Fungusil has undecylenic acid which is as good a topical antifungal as is out there (comparable to lamisil, and vinegar). But topicals don't have a very good success rate against nail fungus. as the Mayo Clinic writes about undecylenic acid:
undecylenic acid belongs to the group of medicines called antifungals. It is used to treat some types of fungus infections. However, compound undecylenic acid generally has been replaced by newer and more effective medicines for the treatment of fungus infections.
————————————————–
A google search turns promotional websites that almost look like comparison sites… but aren't. And testimonials on blogs and forums that are obviously lies. For example
Best Toenail Fungus Treatment – Fungusil?
I've just researching for an effective and best toenail fungus treatment and more of the results in google are home remedies product.
And the only response
I've tried it last month. And believe it or not, it only takes 7-10 days to remove totally my nail fungus
————————————————–
The Funginix, Fungusil, and Fungisil websites were obviously built by the same designer. Take a look, the Funginix and Fungisil sites use the same bottle! Why would 3 similar products with similar ingredients be marketed so similarly? Because they are the same product from the same scammer trying to create a false sense of comparison.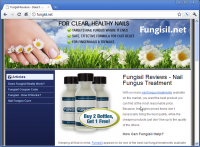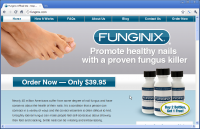 ————————————————–
I have written several other posts about these products and I've gotten loads of comments from people. Search my site for "fungus" for more on the subject.