Last night Charlotte and I went to the Metreon to see Cloudy with a Chance of Meatballs. I really really enjoyed the movie but more on that in another post.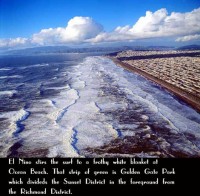 The Metreon is a curious place. As we walked through it last night we alternately got the feeling the place was struggling, up-and-coming, deserted, and the weird sense that we were in the Zocalo in Babylon 5. On an upper level, in place of I don't remember what, is a live theater showing Point Break Live, a quirky theatrical production. Downstairs where the Sony Store used to be is an art gallery showing the works of Robert Cameron. There was one guy at the entrance and a sign requesting a $5 donation. We had time before the movie and thought it was quirky enough so we went in. We asked, "You don't mind if we go in without paying, do you? We promise we won't get too much enjoyment out of the art." He consented and we roamed the space. Yes, his art is taking up the entire 4,000 square feet of where the Sony Store used to be, wow. The person in front said how Mr Cameron was 98 years old and in poor health. We wandered around.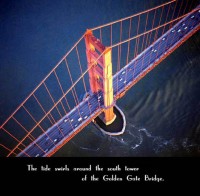 The art is engrossing reality. A 4'x4′ print of the side of a mountain cliff, after gazing for a while, you can finally make out 3 tiny climbers scaling the vertical cliff. A beautiful and odd looking marina shot from above with vivid colors; the artist statement points out that 3 nuclear submarines, the most powerful weapons man has ever created are shown floating in the docks. A joyous 4'x4′ image of the Transamerica Building shot from almost directly above is sitting on the floor of the gallery, making you feel like you are flying above it.
There are many more images of San Francisco, large nature scenes and others. It's really a very good show.
I send my best regards to Robert Cameron.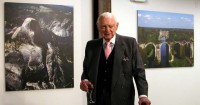 On our way out, we told the person at the front that we had exceeded our happiness quotient for a free show and we both chipped in $5.
The show will be at the Metreon til March 2010.