I own a few halogen bulb light fixtures. My favorite is this one desk lamp. It casts an excellent light  One is this desk lamp that I've had for  
I've used it most every day for 8+ hours a day for the last 8 years… something like 15 thousand hours and I'm still using the original halogen light bulb.
I've asked myself "Self, how can this be? These bulbs are supposed to be rated for 3,000 hours!"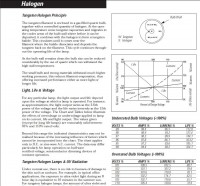 The lamp has a dual power switch. The low power setting casts a slightly warmer, yellower, dimmer light than the high power setting. I like that setting much more than the high power setting. Ladyada pointed out  page 8 of this GE Lighting Technical Catalog. Simplified, it reads, "If you turn the brightness down a little, the bulb will last a whole lot longer". So there. :-)
After much looking, I found replacements for my halogen bulbs online but of course there are so many different bulbs it can be hard to find the right replacement. I had initially bought them in a lighting store in a strip mall in Cupertino. They charged $20+ per bulb. I was so angry when I found them online for $3 per bulb that I returned the store bought ones. With shipping, I bought 3 bulbs online for the price of 1 in the store. The shipping cost more than the bulbs.
PS. No, it's not actually a Babylon 5 lamp. I put that there, off some B5 Action Figures I bought :-)