From the Pocono Record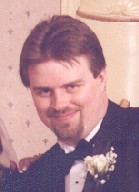 John T. Finnegan, 37, of Stroudsburg, died on Monday, March 17. Raised in Acton, Mass., he was the beloved son of Gail and Robert Finnegan. He was the loving husband of Colleen Ann Capuano, with whom he celebrated nine years of marriage.
John was employed by QA Associates and served as a respected quality assurance engineer. John Finnegan was one of the founders of the New England Roleplaying Organization, a national Live Action Roleplaying group. He was the organization's heart and soul, spending countless hours enhancing the gaming experience. Its customers benefited from John's magnetic personality and his extraordinary creative talent for unique stories and unforgettable characters.
John graduated from St. Anselm College with a bachelor of arts degree in history. He was an avid reader of the fantasy and science fiction genres. He loved to spend time with his many friends, playing video games and especially Dungeons and Dragons. John could always be relied upon to offer a sympathetic ear or a shoulder to cry on.
In addition to his wife and parents, John is survived by his brother, Christian Finnegan, and his wife, Kambri Crews; his grandmother, Latrice Griffin; his brother-in-law, Patrick Capuano; his sister-in-law, Andrea Bacchi; father-in-law, Pat Capuano; mother-in-law, Laura Capuano; stepmother, Debra Finnegan; his stepsiblings, Matt and Sally McCracken, and Molly and Mirco Gaggiotti.
Visitation will be held from 1 to 4 p.m. and 6 to 9 p.m. Friday, March 21, at the funeral home. Additional visitation will be held from 11 a.m. until the time of the service, Saturday, March 22, at the funeral home. A Catholic prayers service will follow at 1 p.m. Saturday, March 22, from the Joseph J. Pula Funeral Home, 23 N. Ninth St., Stroudsburg, with the Rev. Fr. Thomas D. McLaughlin officiating. Cremation will follow the services.
In lieu of flowers and at the family's request, donations may be made on behalf of his departed brother, Robert Finnegan Jr., to Children's Hospital Trust, 1 Autumn St. No. 731, Boston, MA 02215-5301. Please attach a memo or note citing care of Robert Finnegan Jr.