Google for "Raptor Jesus". I dare you.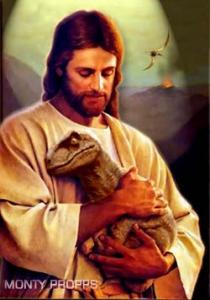 (via)
Here is the original, the one, the only: http://sweetraptorjesus2.ytmnsfw.com/
It plays smoother on ytmnd but here's a local archive…
Here is the Raptor Jesus slideshow (click on the image to see an an animated gif) to be played with the video raptor_jesus.mp3. Put your audio-player on 'repeat'.
Update 3-3-08: The raptor battle just above was painted by Brandon Bird, titled "Killing Machine". I'm an instant fan! (yes, that's  Bea Arthur grappling that raptor)