Friday:
Went for a run with Charlotte… which turned into a walk and mural tour of the Mission.
Went to Instructables Show and Tell. Met a guy and woman from Ames NASA,the head of a super secret company, the heads of http://instructables.com, some Make Magazine people, a woman that made a used-jeans quilt, a woman that made trans-genic photosensitive fish, a guy with these really cool musical gravitational ball things (http://www.art.net/~simran/GenerativeMusic/kepler.html) … and we had so much fun!
Saturday:
Charlotte taught while I vegged and stuff.
Sunday:
Charlotte went to a terrific belly dance workshop Rakkasah (http://www.rakkasah.com) and I went to a local gun show looking for flashlights, bike lights, little multi-tools with corkscrews and to trade my rifle for a handgun now that the SF handgun ban is a definite non-starter. We're thinking about
Monday:
I went to a Quickbooks class at City College of San Francisco and found out "officially" that Quickbooks sucks for handling inventory. For example: If I purchase a box of 10 widgets for a total of 10.05 how do note the individual Cost of Goods Sold (which is $1.005)? Answer: round up to $1.01… which means that my accounts won't reconcile to the penny any more.
Went out for a sushi dinner with some of Charlotte's friends from college.
Last Friday:
Walked in the sun.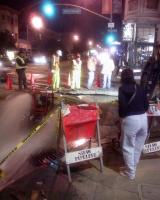 Went to the Art City gallery and met some artists
jumped across the Valencia River (a water main at 20th broke making a stream that looked like the one behind my house when I was a kid!)
Charlotte wore her new (supa' hot) coveralls
Went to a pirate store (and saw a puffer fish in their fish theater)
Ate great Irish food at the Phoenix Pub
Had to bag on going to ANOTHER Irish pub to meet Fruitbat because we…
Smiled, laughed, passed out from food coma
Also recently I've completed:
Make short URLS work for FLG wiki. Dinner with Coral… she helped us with Quickbooks. Called Ubisense looking for location sensing tech. Tried (and failed) to get health insurance. Celebrated Swarm's funding an volunteered to be the financial coordinator. Went to Burnal Equinox party. Been creating a "photo a day for a year" for my sister's birthday.