George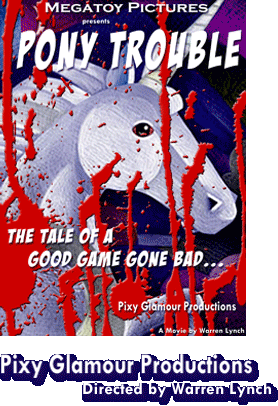 Lucas, Martin Scorsese, Peter Jackson, eat your hearts out. No, really. Thrust your hands between your ribs, grasp your beating hearts, pull them out, and eat them.
This from Warren's movie's web site, Pony Trouble.com:
Currently in production, Pony Trouble is Warren Lynch's feature length fantasy/comedy/horror movie about a group of adult toy fetishists who take their fantasy game a little too far…

Pony Trouble is an independent movie, shot entirely in Boston and edited at Music Lane Studios with music supplied by daisycutter and Freezepop. Pony Trouble's expected release date is June 2005, so join our mailing list for advance screening information!
I've seen the demo and I know Warren well. This fantasy/comedy/horror movie has great cult potential.