I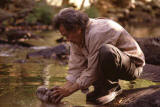 t was initially a pain to organize but I'm so glad that I finally got to see Robot Stories with friends! The initial plan was to see it on opening night at The Cinema Village theater in NYC. I had sent out emails and organized so that about 5 friends and I would go to the 7:40 show. River was a late comer so he tried to get a ticket online. But it was sold out. It's a good thing he emailed me that because I didn't have tickets yet! I was going to go all the way into the city and meet for dinner just to find out I couldn't get into the show! Both shows were sold out on opening night so we had to reschedule. Another round of invites went out for the Wednesday 7:40 show. Glenn, Shara, Jim D, Marian, and Marah said "yes".
What a great evening! It started out with a minor miracle… I found a place to park on 3rd between 11th & 12th. But I realized that I didn't have any quarters for the meter. A guy parked right next to me so I got out and asked to buy quarters from him. I looked in my wallet and frowned as I noticed that all I had were $20s. He gave me a quarter… yes, that's right gave me a quarter and suggested that I use the 15 minutes to find more quarters. :-)
I got some quarters at a costume & magic shop right nearby (I'll have to go back, they had fun things). I walked to the theater and noticed that there was free street parking right in front of the theater starting at 6pm. At 5:40, no one had shown up so I fetched my car and sat in it 'til 6. I parked right in front of the theater!
Glenn showed up at 6 and we met in front of the theater. We walked to the restaurant and met up with Marian and Marah. Dinner was just peachy. The talk was really nice. It's nice to be social! We went off to the theater and met Jim in front. In we went. We were there 10 minutes before showtime and the theater was packed! There were only about 180 seats or so but.. it was packed! We found 6 seats in the first and second row.