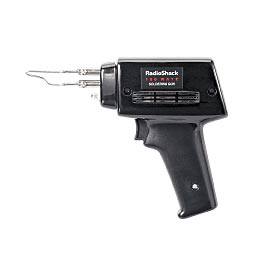 When I bought the new 1100 mah battery, I told myself that I should return the 100 watt Radio Shack soldering gun (64-2193) I bought to assemble packs with. But I didn't :-).
I had never used a gun before. All these years I had this impression that irons were the way to go… because. I've got the Radio Shack 15/30 watt dual heat iron and have been happy with it for a long time. But after trying the gun, I've got to say that I am -very- impressed with it's power and ease of use. IE: Plug gun in. Pull trigger for 10 seconds. Start tinning tip of gun. [yes, 10 seconds, not 10 minutes] Release trigger while positioning pieces to be soldered. Pull trigger and wait 3 seconds. [yea, it's a slight bother that it's not always at the ready like an iron, but the tip needs less tinning] Touch tip to Deans Ultra connector, wire and solder for 3 seconds to solder together. [The 30 watt iron would take 10-20 seconds of heating time]. It's also nice that the gun is safely cool again in 5 minutes.
I like the gun.
So now that I've spent the $12.99 on the gun and I've browsed too many battery websites, I might just build my own packs after all. More details as they develop.