Kikkoman! Kikko Man!

Original – link dead :-(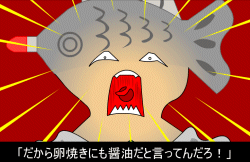 local version – not dead :-)
Wuw. This is some of the most….. I don't know.. you just have to see it for yourself… Wuw. Did the soy sauce maker actually commission this work? If so… what does that mean? Wuw.
If you can read the Japanese and it says anything interesting, please write to me! I'd be most interested in finding out what predicated the swinging dead cat, and how the fish-headed Kikko-Man got the chick in bed. Wuw.
Did I mention…. "Wuw"?