I was at Planned Parenthood recently. I was sitting around in the waiting room reading all the literature on the walls and I came across a weirdly shaped pamphlet. Turns out, it's a pamphlet for the Mircette birth control pill. It was oddly shaped because it had a pocket inside it with a map-looking thing in it. I idly opened the map-looking thing… and kept opening it… and kept opening it… into an 11″ x 25″ paper with itty bitty print on both sides. Yow.
I saw a pretty picture of the Mircette molecule. Some pretty charts on "Circulatory Disease Mortality Rates per 100,000 Woman-Years by Age…" You know, the usual. I was keeping it light so I kept to the charts and graphs. I came across one that… well, it's heavy. Here it is, lifted from the Mircette page: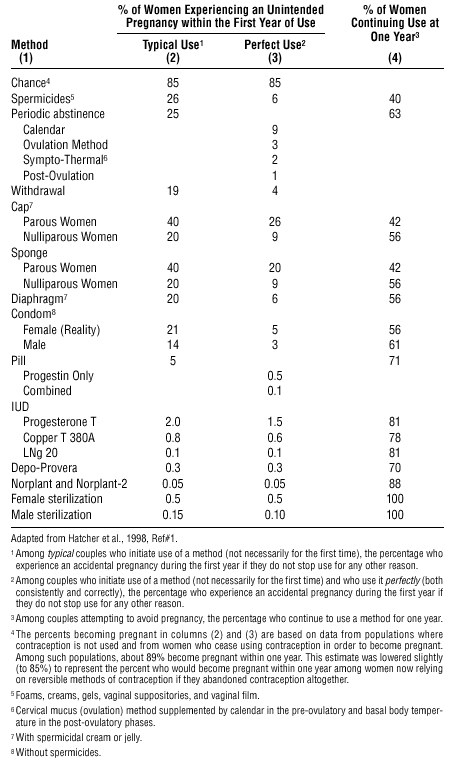 Do you remember your statistics? Take a look at line about male condoms. This says that if a couple uses condoms regularly as their only birth control method, they have a 14% chance of becoming parents after a year. Compare that to if they didn't use anything at all; they'd have an 85% chance of conceiving. Said another way, you are about 1/6th as likely to conceive when using condoms. If, on the other hand, you're on the pill, you're somewhere between 1/170 and 1/850 times as likely to conceive.
Of course, condoms are good at preventing the spread at disease. And they are good as a "multiplier" when you use multiple birth control methods. But if all you use are condoms for birth control, then you're playing Russian Roulette with your future.