While I didn't get to go to Burning Man this year, I got to help build one of the most dangerous pieces at the event this year, so that's pretty awesome!
I love teaching a flame effects class at The Crucible. A student of mine took what he learned in the class (and his own moxie!) and made this fire happen in 2016: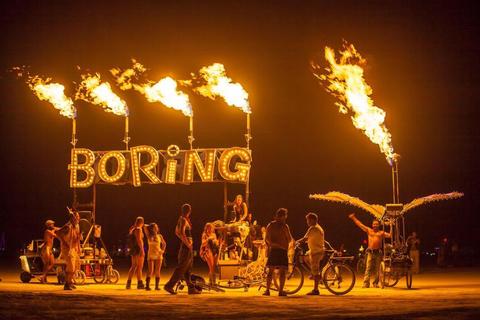 This year, Toby upgraded the fire on the Boring sign! More fire! Bigger fire!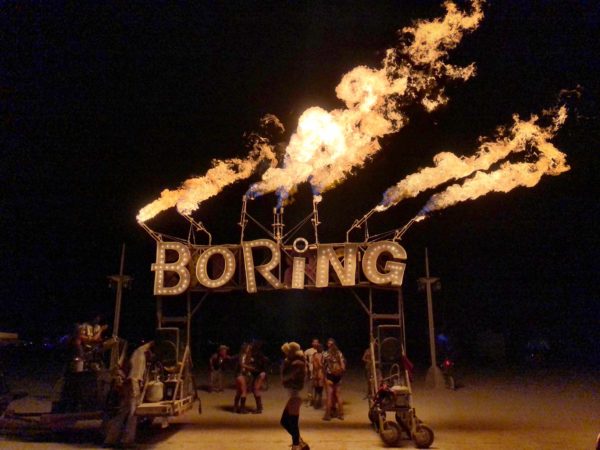 And even more wonderfully, he consulted me about  a very awesome piece he put the fire on called "Night At The Climb In" by  Dustin Weatherford. The fire sits on top of a 50 foot tower that's been skewered with cars and a camper!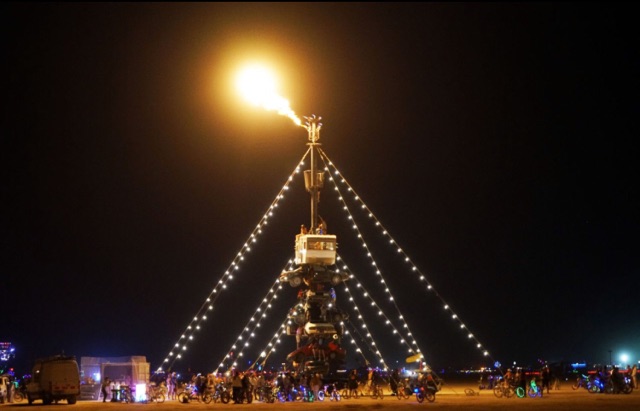 It's got multiple solenoid valves including several 1″ valves and a 2″ valve, a sweet (and safe) propane warming system, and a diffusion plate that let it create huge rings of fire!
Are people climbing on top of a stack of junked cars without any kind of safety equipment? Yes they are! Sounds dangerous? Yes it is! That could lead to headlines like this in USA Today:  Burning Man towering art car installation closed after someone fell off!
BLACK ROCK CITY, Nev. — Safety rangers have closed one of the most popular art installations at Burning Man after someone fell off it late Tuesday or early Wednesday morning.

Artist Dustin Weatherford on Wednesday confirmed someone fell off "Night at the Climb In." He said he didn't know their condition, adding, "I hope they're OK."

Burning Man officials didn't immediately return a request for comment. Weatherford's installation consists of seven junked cars topped with a small RV trailer, spiked onto the desert with a tower about 50 feet fall, topped with flamethrowers.

The annual Burning Man event, which is actually a pop-up city where pretty much anything goes, is in the Black Rock Desert, 120 miles north of Reno, Nevada. This year's festivities run from Aug. 26 through Sept. 3 and are expected to draw 80,000 people.

Wednesday morning, a trickle of attendees rolled up to the sculpture, which is now surrounded by yellow safety tape and guarded by volunteer Burning Man rangers. Rangers said they also had concerns that one of the cars about 20 feet off the ground had either bent or broken in half. Weatherford said the car posed no safety risk and the sculpture remained structurally sound.

Until Wednesday morning, Weatherford's tower had been one of the most popular attractions at the festival, with dozens of attendees climbing up. Like many of the interactive Burning Man sculptures, the tower had no safety rigging or guardrails for people as they clambered over the stacked cars to reach the top.
Was this the most dangerous art piece at Burning Man 2018? Tell me in the the comments!