Today I tried to install an EPUB reader to read my friend TJIC's new books.  After more than an hour of trying this has stopped being fun. I just want to read a book and I've wasted a few hours pushing buttons. This is why paper is not dead yet. Or maybe this is why single-purpose Kindle readers are a good idea.
I have an  Amazon Fire HD 8 (5th Generation) and it continues to be a a pain in the ass. Every time I try to do something that isn't akin to watching television on it, I get sucked into this vortex of things that don't work. Here was today's adventure:
I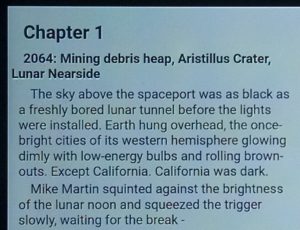 went to the Amazon Appstore and installed eLibrary Manager, which is billed as being "actually free" from Amazon. It worked OK but the default font is a horribly bland san serif font and the option to change the font didn't work! Not happening.
I tried Overdrive, which has lots of tie-ins with public and university libraries. That seemed like a safe bet. But I couldn't figure out how to get the book into into the app! How it's supposed to work is that I install Adobe Digital Editions on my computer, link my account to my computer, and move it over to my Kindle. I spent 15 minutes wrangling with Adobe and some insane user registration system. Then I couldn't get Adobe Digital Editions to see my Kindle when I plugged it into USB. I gave up.
Calibre Companion (demo version). After 15 minutes I figured out that it isn't an ebook reader, just a way to move ebooks around. It works great, it just doesn't do anything. Ugh.
Aldiko seemed like a really good bet. Super pretty. But I can't create an account with the app. This is likely because the Amazon Appstore gave me a version of the software that is 3 years old and I'm not able to update it. I wrote to customer support. (update 9-1-17: they never wrote back :-(  )
Blah!