short form: My wife and I are very happy with the custom made ring made by Edward's Jewelry and Imports in San Francisco. I spoke with Jean Paul Tchamourlian there. I showed them some photos and talked about what I wanted and they made it for me! We got exactly the ring we wanted for about the same price as a ring made on spec! I got the sapphire from Andrew at Gemfix.com, a cutter in San Diego. The stone is magically beautiful. Seriously.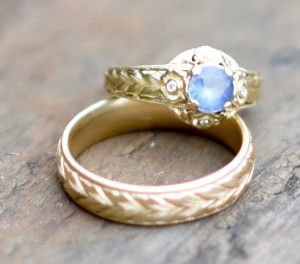 ————————————————–
Long form (it's pretty long, all my wedding ring research!)
Jean Paul Tchamourlian
Edward's Jewelry and Imports
Gift Center and Jewelry Mart
888 Brannan St
Showroom 160
San Francisco, CA 94103
jean-paul@edwardsjewelry888.com
415-626-9333
Jean Paul was really super great. If you go, definitely say "hello" from me, I'm sure he'll remember me. He gave me exactly what I wanted at the best price I found. At other stores, I found many not-custom rings that were similarly priced to my custom ring.
The San Francisco Gift Center and Jewelry Mart  is definitely worth browsing. There are about 5 big jewelers and 10 small jewelers in this underground mall. You need to be on the guest list to get into the place (security is tighter since it's all jewelry stores). Just call Edwards Jewelry (or any of the others) and they'll have a pass waiting for you at the security desk. The Gift Mart website doesn't look like much but it's definitely worth visiting.
I also got a  Sara and Jane Wishbone Necklace in Sterling Silver for Megan so she could take her ring off and safely keep it on her neck. It totally works but it turns out that Megan doesn't use it. There are similar ring holders online, this is is a very good one. You can search online for "wedding ring holder pendant" "charm holder pendant"
I got the sapphire wedding stone for her wedding ring from Gemfix.com. I ordered 3 stones and returned 2. As the website says, all of the gems look different from the photos. That's the thing about gems, you can't capture their glistening in a photo or in all the types of light. I thought I wanted one stone from the photos but when they arrived, I ended up completely falling in love with another stone. So when you look at your stones, try them in sunlight, incandescent, overcast daylight… etc… Again, see it with your own eyes before committing to it. I spent about $100 mailing gems around with insurance and it was worth it.
Inspiration for our  Ring
* Show me some Van Craeynest
* Van Craeynest Facebook
* http://www.minerals.net/gemstone/sapphire_gemstone.aspx
* http://www.gia.edu/
* discussion of putting a sapphire in a VC 1020 http://www.pricescope.com/forum/colored-stones/blue-sapphire-for-engagement-ring-sos-t190755.html
Lots of articles http://www.jewelrynotes.com/, http://www.jewelry-secrets.com/
The first CAD design for our ring:

There are no official names for sapphire colors. Here is one website's attempt at naming the colors. When asking around with these names, I got a lot of blank stares. Gemfix tries to put Pantone color names on their stones and that works better than saying "it's more of a Camelot Blue than a Prince of Wales Blue…" heh.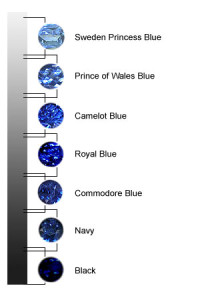 Here's some good sapphire guides. But screw all the guides! Hold the stone in your hand and see if you love it.
* http://www.wikihow.com/Buy-Sapphire
* stones by location http://www.collectorfinejewelry.com/buyers_guide_sapphire.htm
Places to buy sapphires
* http://www.realgems.org/links.html
* http://www.thenaturalsapphirecompany.com/sapphires/c-5-blue-sapphires/ (many stones have videos which is nice)
* http://www.riogrande.com/Home
* http://www.gemfix.com/sapphire_blue.html
* http://www.ebay.com/sch/Sapphire-/10259/i.html
* http://www.africagems.com/bluesapphire.html
* https://www.hooverandstrong.com
* http://www.mastercutgems.com/
* http://www.palagems.com/home.htm (only open to the trade)
* http://www.gemrite.com/collections/gems/sapphire
* http://www.mlowejewelry.com
Gem sizing comparing millimeters to carats in round stones. (Via. This site has comparisons of lots of different shaped stones)
5mm = .46 carat
6mm = .84 carat
7mm = 1.28 carat
8mm = 2.04 carat
Styles of rings often have names, and often they don't. I found abunch of buzzwords that helped in my search somewhat.
Antique / Vintage, filigree, Edwardian which is a subset of Victorian. Maybe Art Nouveau, Art Deco
Not: Georgian (kinda bubbly), Victorian (crowns and royalty, Edwardian, Art Nouveau and the Art Deco
http://en.wikipedia.org/wiki/Estate_jewellery#Periods_of_estate_jewellery
If you're getting a diamond, I hear that you want to buy:
Color: I or better (D, E, F, G, H, I)
Clarity: SI2 or better
Dumb tip I learned:
White gold is usually electroplated with rhodium to make it more white. This coating wears off, which is stupid. Jewelers recommend replating it every 1-2 years. Some people get it replated on special anniversaries…
White gold can be made from nickel alloys. Caution, they might cause allergic reactions.
More Sites to shop for rings:
* http://antiqueengagementrings.com
* http://www.etsy.com
* http://www.ebay.com
* http://www.rubylane.com
* http://diamondbistro.com/
* http://loupetroop.com/
* http://www.vancraeynest.com/
* http://www.pricescope.com/
Suggestions for Bay Area local dealers and ring makers
" If you are still wanting to have a custom piece made or if you guys want to make them I can help you out with either of those requests." www.dac-metals.com David Casella dac-metals@sbcglobal.net
Make your own ring in SF http://www.sanfranciscoweddingring.com/ from aerin
low cost diamond wholesaler http://bluenile.com from Michael Kearney
You could make them in silver in a Crucible intro jewelry class at Crucible from Denise Taylor
Bay area jeweler http://www.ckjewelrydesigns.com from Hilary Engelman
Bay area jeweler http://www.watsonandson.com/ from Mark A. Watson
"If you are looking for specific ring design or have your own design in mind I can definitely assist you with that project." http://bondejewelry.com/ from Bonnie Heras bheras@sbcglobal.net
"The 14 Karats on College ave. John and Lilly have been a pillar of the community for a long time" from Grant
"If you are interested in creating your own wedding bands together, I have had a number of students do that in my Wax to Silver Casting class at The Crucible. People have had a lot of fun designing their rings together, regardless of whether one person takes the class and makes them both or the couple takes it together. If you're curious about going the make the bands yourself route, just let me know and I would be more than happy to chat with you at The Cru and show you both examples and options!!" from Kim Mirus kmirus@thecrucible.org
If they want something real clean and modern with a big stone they should meet with David." David Cole http://www.svartvik.com/ from Chrissy  K
Carmen Q – http://CarmenQ.com from Yelp
http://macreativedesign.com/ from a couple emails
http://katerichbourg.blogspot.com/ Lorah Gross' friend Kate who teaches jewelry craftsmanship and design for a living. She might be interested or know someone who is.
use precious metal clay to make your jewelry from Carol Dacanay
I've spoken a bit with Wilfy McManus, Celtic Inheritance, 1778 Shattuck Ave, Berkeley 510-841-8702. He can make or pour or help with us making a ring. He gave me the ring tools.

Go to Otto Frei in Oakland for DIY ring making supplies.

for inexpensive options (and comparison shopping) http://www.e-weddingbands.com/index.html
————————————————–
Phew. That's enough talk about rings!
For the wedding plans, I'd be happy to talk to you about what we did. I've got spreadsheets and all kinds of things!
I made a couple posts on my blog about the wedding. Take a look. I'm happy to chat about any aspects.
http://www.lee.org/blog/?s=wedding
Another great hint: http://www.honeyfund.com/ It worked perfectly! See our honeyfund here: (http://www.lee.org/blog/wp-content/uploads/2015/02/7b-Registry-Honeyfund.png)