I joined Megan on a diet called Vitaliti. It's got great fundamentals. It doesn't feel like a diet. I've lost weigh, gained muscle, feel great, look great, and don't feel like I'm being starved at all. The fancy Tanita TBF-300A scale at the weigh-ins says that over the last 4 weeks I've lost 5 pounds of fat and gained 3 pounds of "fat free mass", most of which is water. All this has been happening during a very stressful (and binge-worthy) time in my life, applying to grad school. What keeps it working so well? I get to eat food like this!
Almond crusted tilapia with spicy southwest roasted kabocha squash and baby peas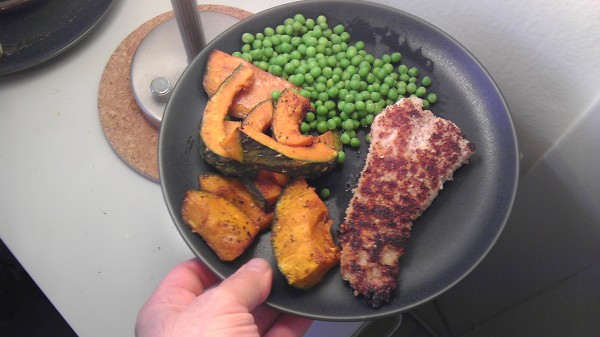 I'm more impressed that Megan helped me get to a place where I made this dish from scratch — on my own — for no other reason that it tastes good, gives me energy and is filling.
What, you might ask, do I get to eat for the rest of my day? Plenty! I am not hungry on this diet at all. I'll tell you about it sometime!
But now, back to writing my Personal Statement for my application to grad school!