It's so easy… once you know how!
In the image above, my laptop computer is running everything. Screen number 2 is plugged into my laptop. Screen number 3 is on my desktop computer. I made another "display" on my laptop and I'm showing that 3rd display using Teamviewer!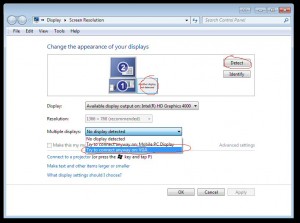 How I made it work: On the laptop, go to Windows 7's "Screen Resolution" screen. Click "Detect" and Windows 7 will claim "Another display not detected". That's ok. On the properties for that display, under Multiple Displays click "try to connect anyway on: VGA", and click Apply. Then under Multiple Displays click "Extend desktop to this display" and click Apply. You are done on your laptop!
Now go to your desktop computer. Connect to your laptop with Teamviewer (this will probably work with other VNC-like programs). Choose to view the 3rd display.
Tada! You now have multiple monitors on one computer, with the help of your other computers.
I have also used Synergy to connect two nearby computers to one another. You can use both Synergy and this Teamviewer trick at the same time. The mouse movements get a bit confusing but it works!