I've been fiddling with my Google Chrome startup screen. The Speed Dial extension for Chrome is good. It looks similar to the standard Google New Tab screen but it lets you customize it. (It drives me crazy that you don't know with certainty what links will be on the New Tab page).
But I got the sense that Speed Dial was slowing my computer down just a tiny bit. So I switched to a more streamlined startup screen.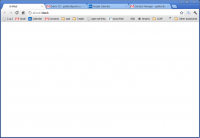 I open 4 tabs:
Blank Chrome page
Gmail
Gmail Calendar
Gmail Contacts
There are 3 ways I know of to create a blank tab in Chrome.  I'm still not sure which I like the most:
You can set the startup page to be about:blank, but the text will highlight incorrectly when you start typing in the omnibox.
Or you can set the home page to be: javascript:("")
Or you can open a Chrome New Tab page with:  chrome://newtab/
Here is how to set the Chrome startup page
Click the wrench
Click "Settings"
Click "Open a specific page or set of pages."
Start adding new pages!