I'm going. You?
————————————————–
Saturday brings Chicken John's Lost Vegas to NIMBY. We have plenty of off street parking,
almost 4 acres, the weather will be great and if not, don't worry, we are
mostly indoors though the enormous burn barrel will need to stay
outside…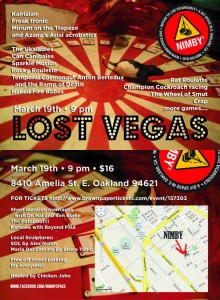 We are featuring this year:
Cockroach Racing
Rat Roulette
The wheel of SMUT
Quantum Physics Dating Game
Crackjack
Poke-her
Human Wheel of Death
Crap
These are all games you can win big on. Big. Big!!! BIG!!!!!!!!!! The show
goes late, so come early all over the place.
LET IT RIDE!: Just like the big boys, you can win big! Big! BIG!!!!
ROCK!: To the sounds of KALRI$$IAN !
WEEP!: Like a baby as our sharks take all your chips!
MARVEL!: Time Traveler Anton Berteaux will jump the ramp of death!
VOW!: Dr. Hal & Rev. Burke will offer short duration marriages!
CROON/CRINGE!: At the Kareokie station with Beyond Paul!
POPERATTZI!: The PHOTOBOOF will be in effect!!!
SWOON!: The Ukaladies Strumming Club are the only all gal uke band!
CASH OUT!: At the redemption booth with Tracey and Don!
OOGLE!: The loose ladies and the Miami sounds of Freaktronic!
CRY!: Out in disgust at our cockroach racing!
YO!: David Capurro rocks the Yo Yo to Black Sabbath!
SLURRR!: Your words, by patronizing out bar!
RACK!: Your brains to the Can Cannibals!
DRESS!: To the nines; Lost Vegas has an un-enforced dress code
FOUL!: Chicken John is your host with the least…
Short duration marriages performed by Dr. Hal and Rev. Ben Burke! Discount
at the door for those wearing Bridal attire!!!
More entertainment as follows:
Mirium on the Trapeze
Azana's Arial acrobatics
Bruce Tomb's Maria Del Camino
Michael Christian
SOL by Alex Nolan
The Tub-o- Hurrle
The Yo Yo King
Ukaladies
Mongo Lounge
Cheese Puff
Sparkle Motion
Belly Dancing with Rose Harden and friends
The Can-Cannibals Dance Troupe
KALRI$$IAN
Freaktronic
Naked Fire Babes
Shipwreck Tiki Lounge
and much, much, more.
It's an evening to dismember, so put on your finest and come on out to
NIMBY to do the Lost Vegas grind!
All gambling is real. You play with chips that you cash out for valuable
prizes. Ahem. This is less spectacular and more action-oriented. You place
the bets! You race the roaches! You spill your drink! It's all about
you!!!!
Lost Vegas, where everybody's nobody and that at least all of you…..
This marvelous event (now in it's 18th year) is everything you've never
wanted in a casino experience and much, much less.
Come on down and hang out all over.
http://www.brownpapertickets.com/event/157303
We have enough off street parking for everyone
Autos and Bicycles
http://www.facebook.com/nimbyspace
http://www.nimbyspace.org/
Help keep NIMBY open and alive.
All proceeds will help us with past and future endeavors. If you can't
make it to this show, please buy a ticket and give it to a friend.
Please forward this invite to your favorite lists
Mr. Snook
"refuse to live vicariously"
A DIY space
_______________________________________________
Nimby-List mailing list
Nimby-List@lists.nimbyspace.org
http://lists.nimbyspace.org/listinfo.cgi/nimby-list-nimbyspace.org