I've been using the NoSpamNX anti comment spam plugin for the last few months. It works very well. The best part is that it reduces the number of comment spams in my Akismet spam folder so dramatically that I'm able to look through the folder and rescue false positives.
Take a look at the image below. Spam comments are down from 300/day to 5/day. And now I rescue the  occasional  false positive.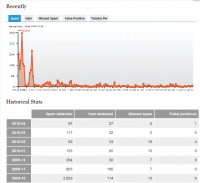 Of course, as it becomes more popular, spammers will adapt. But it's worked well for several months. I have noted that the Akismet chart above doesn't track the number of false positives correctly. I've rescued more than the number of false positives that the chart claims.