I'm excited about going to Kinky Salon this upcoming Saturday, Sept 26th with Charlotte.
Here's a terrific video from the last Kinky Salon, Alice in Wonderland

local version:
Kinky Salon HIGH
It's time for some private tuition
September 12th and 26th

Get out those peachy folders, 'Now & Laters', little plaid skirts, letterman jackets,cigarettes and protractors…cuz its time to GO BACK TO SCHOOL!
That's right- ORAL reports, spankings behind office doors, tongue depressors, tight skirts,'making-out' under the bleachers, passing notes in the hallway, gossiping, Yeah, we wish high school was this much fun!

-School Election for Prom King and Queen!
-The KS HIGH School Talent Show!
-The NAUGHTY SPELLING BEE!
– SOCK-HOP! (… those school chaperones will be watching you!)

DRESSCODE: Naughty Schoolgirls, little plaid skirts and white bobby socks Principle/Dean, Head Nurse, preppies, Goths, drop-outs, teen mothers, greasers, surfers, surfer chicks, School Mistress, stoned bus drivers, science teachers, beatnik drama teachers, janitors, PTA parents, Gym teachers, Drama geeks, Jocks, 'Goody Goodies', Prom Queens, Heathers', tough girls & bad boys, llies, Football Quarterbacks, band geeks, D&D Science nerds, Bus Drivers, Lunch ladies, cheerleaders… And as always- sexy costumes, lingerie, leather, latex, Fetish, uniforms and formal wear…NO STREET CLOTHES, PLEASE- no jeans, khaki, sportswear, etc will be admitted!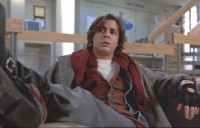 I'm going all out. I'm showing up as John Bender the criminal Molly Ringwald fell for in The Breakfast Club.
After much hunting, I've found Mr Bender's shirt, undershirt, fingerless gloves and pin, boots, pants, foot scarf, and hair.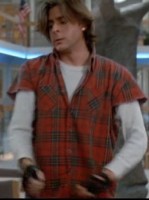 I decided against wearing his jean jacket, overcoat and scarf (though I found them!) because they'd be too warm to wear at the party. Hmm, maybe I need the jacket…. hmmm.
Oop! Looking at that image, I see I forgot his earing and ear cuff!
"It feels good to be bad, doesn't it?"