Zetaclear is a scam.
To start with, just look at the ingredients in ZetaClear Clear Nails Solution  as mentioned on their website (in order of prevelance).
Undecylenic Acid – Moderately effective. Available from your local Walgreens for $12 per ounce or so. It's generally available in 10% or 25% strength. I wonder what % is in Zetaclear because they don't say.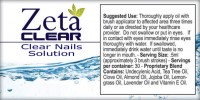 Tea Tree Oil – It's a pretty good natural anti-bacterial and anti-fungal. It might help with your nail fungus but it costs $10 for 4 oz at your local Walgreens
Clove Oil – smells nice. Kills fungus? Not so much.
Almond Oil – nice oil for back rubs…
Jojoba Oil – wha?
Vitamin E Oil – Good for lots of things. But not for fungus.
Lemongrass Oil – Smells nice on Thai food. Not so much help with fungus.
——————
Zetaclear Nail Fungus Relief Homeopathic Spray
Ok, then they have this ZetaClear Oral Homeopathic Spray. This is… Need I remind you that homeopathy is quackery? I'm not talking about herbal medicine here but homeopathy. If you still want to buy ZetaClear Homeopathic Spray… man, I'm not stopping you!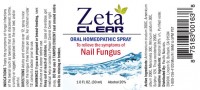 Ingredients in Zetaclear Nail Fungus Relief Homeopathic Spray from their web site
Antimonium Curdum 200C

Arsenicum Album 200C

Mancinella 30C

Nitricum Acidum 30C

Sulphur 12X

Thuja Occidentalis 200C (Arbor Vitæ)

Inactive Ingredients: Alcohol 20% v/v, Purified water.
Just a homeopathic reminder, this product is 20% alcohol and 79.999999999999% water (yes, that many 9's). All the rest is potent medicine! ;-)
.
.
10-10-11 Update: They used to have a terrible bad return policy. I see today that they have changed it to be reasonable. I have struck out my previous comments (below) about their return policy.
Here is the core of their new return policy from their site
You should return the item to us within 90 days of your purchase date.
We do not accept items back that have been opened or used. Opened Items are Non Refundable.
Shipping and Handling Fees are Non Refundable.
.
Here is their previous return policy:
Return Policy
Take a look and see that the  company's return policy charges $10 per bottle restocking fee and doesn't include return shipping. The stuff doesn't cost $10/bottle to make! So, when it turns out that it doesn't work, even AFTER you return it and gotten your partial refund, they will have made money on the deal.
Here is the full text of their TERRIBLE return policy:
7. 90 Day Return Policy:

We take great pride in the superior quality of our products and want you to be pleased with your purchase. We believe in offering the very best value, quality and selection to our customers. You may return any unused and unopened item purchased from us for any reason within Ninety (90) days of your purchase. If you purchased your merchandise through a "Buy Three, Get Three Free" or similar offer, all items must be returned in order to receive a refund. If you return a partial amount of merchandise, you will forfeit the free product and receive a refund on the discount price per item based on the total purchase.

Your complete satisfaction is our ultimate goal. You may return any item shipped by HealthBuy.com or GSCM fulfillment, keeping the following in mind:

* You should return the item to us within 90 days of your purchase date.

* There is a $10.00 restocking fee for each unopened item ($5 if item was less than $20).

* We do not accept items back that have been opened or used. Opened Items are Non Refundable.

* Shipping and Handling Fees are Non Refundable.

Example: If you purchase 1 bottle for the price of $39.95, and returned one unused, or unopened, bottle you would receive a refund (less the restocking fee of $10) for a net refund of $29.95.

To request a refund you must obtain an RMA (Return Authorization). Requests must be made online and submitted with your order information and explanation of the why you wish to return the product. You will recieve your RMA via email once our customer service department has identified your eligibility for a return under our policy. Please do not call for an RMA. If you return your product without a RMA number you will not be refunded. Shipping and handling charges are non-refundable. For returns via mail, you must carefully package the product, you are responsible for the cost of return shipping, and we must physically receive the return within the 90 day period. Health Buy reserves the right, at its sole discretion, to reject any return that does not comply with these requirements. Once your return has been received, a refund check will be issued within 30 days and an e-mail confirmation will be sent.
————————————————–
There are many discussions about nail fungus going on on my blog. Search my blog for the word "fungus" for more.