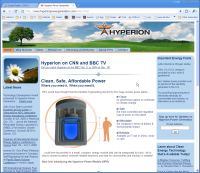 You know how on Stargate Atlantis they are always talking about using Naquadah generators when the ZPMs aren't working?
Well, you can now buy Naquadah generators …. FOR REAL
It's about $25 million for something about the size of a hot tub  that can provide a continous 25 megawatts (like 20,000 homes) for about 5 years with zero maintainence.
http://www.hyperionpowergeneration.com
Update, they changed their name to Gen 4 Energy
This is on my x-mas wish list.