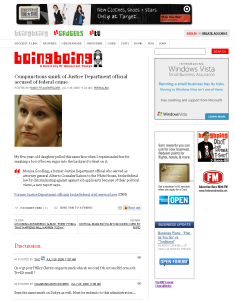 Apparently when the editor on BoingBoing doesn't like your post, instead of doing something reasonable like discuss or refute it, it gets "disemvoweled".
This is the most insulting thing I've seen in ages. It's akin to the moderator of a discussion putting a dunce cap on your head and then saying with a straight face and a titter, "continue, we're all listening."
This happened to Travis. Teresa Nielsen Hayden, an editor at BoingBoing stripped his comment (#1) humorously critical of Hillary Clinton of vowels while the very next comment with almost the same wording critical of George W Bush was not stripped.
Seen the same smirk on Dubya as well. Must be endemic to this administration…
In browsing the site, I see that this apparently happens a lot. Mostly because they "just didn't like the tone of their voice" 1, 2, 3…
Their moderation policy says pretty much, "Don't like our censorship policy? Get your own website." The exact quote is
Q. I can't believe that Boing Boing, of all places, would be using censorship. What happened to freedom of speech?

A. Boing Boing is steadfast in its support of your freedom of speech. We believe that you, O Reader, should be able to have (or refuse to have) anything you want on your own website, as long as it doesn't deprive others of their rights. Yay, freedom of speech!

By that same token, freedom of speech also means that the people who write and edit Boing Boing have the right to have (or refuse to have) anything they want on their own website. If one of the things they don't want is a comment that you have posted, they aren't depriving you of your freedom of speech. You're free to put that comment up on your own webpage.

 
Fuck you, BoingBoing. If you claim intelligence but can't take the heat have a reasonable discussion, you don't deserve to be spoken to.
I right now vow to not click on or look at any ads on BoingBoing for 1 year.
No, wait…
I just removed BoingBoing from my RSS reader.