The report took the US intelligence community severely to task for a series of shortcomings it said led to the false conclusion that Saddam Hussein possessed weapons of mass destruction, justifying the 2003 invasion of Iraq.
(Source)
Still looking for scapegoats? I remember seeing a parade of individuals in positions of authority saying that there were no WMD. People like Charles Duelfer, head of the UN Iraq Survey Group, and "official CIA reports" (so said the news).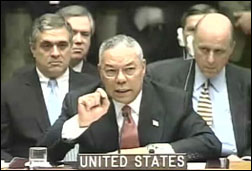 And I recall about 2 1/2 years ago there was a stink about the president ignoring reports by the CIA and UN that said that there were no WMDs.
Yes, Mr. Hussein is a very un-nice person. But there are lots of un-nice national rulers in the world. Why not pin a target on those guys chests?
Ok, so, we went to war to put a presence in the mid-east for national security's sake. Just freaking say that!
——–
I will go to my grave being angry at Colin Powell for lying in front of the UN Security Council and the tens of millions of people watching on TV. His appearance before the council on February 2nd, 2003 is what convinced me that the war was justified. He used his tremendous stage presence to deceive me.
How do I know he's lying? He talked about a tremendous amount of "verified" incriminating evidence. Yet not a single scrap of evidence was ever found, not by the UN inspectors and not by the US military. Not a single molecule. [update 4-2-05. This statement is incorrect. See Comments below] I find it odd that we can recover data off a hard drive that has been overwritten 5 times and then smashed with a hammer but not find any traces of sought after chemicals in one out of at least "65 such facilities in Iraq" (Powell).