I did a bad thing ;-)
I got yet another telemarketing call from "The Carpet Cleaning Company". Over the last couple years I've tried getting myself off their telemarketing list, starting with being on the National Do Not Call Registry. I tried "press 9 to remove yourself from our list" maybe 3 times in the last year (they call a lot). I tried talking to the nice lady who comes on and have alternately been hung up on and told that I'd be removed. Let me also say that I have no carpets that might possibly be cleaned! The biggest rug in the place is the throw in the bathroom.
So today I signed up to have my carpets cleaned. They'll be here Thursday between 8 and 10 am.
I gave a ficticious name and a ficticious address. They said they'd call before coming out. I'm debating whether I should call it off when they call to confirm. I mean, all I want is for them to realize it's not in their interest to call me. I don't want to put some guy in a van out.
What do you suggest?
Update 4-23-09: The Cleaners Arrive
I got a call at about 9:30 from "the carpet cleaners" saying they'd be arriving shortly. At about 10, there they were!
I took a few photos of their truck, waited a few minutes and then approached them.
The conversation started out like this as best I can recollect. I'm forgetting  some little bits but you get the idea (next time, I'll record video of everything)
As I approached from across the street, the angry cleaner  immediately asked something like, "So what about the carpets you need cleaned?" I guess I had "clean my carpet!" written all over my face. I had been trying to be all nonchalant. Oh well. ;-)
Lee – I don't have a carpet needing cleaning. It's illegal for you to have called me because I'm on the Do Not Call List.
Cleaner – Hey but we're here.
Lee – Your company has called me 10.. no 20 times in the last 2 years and I've tried to get off your list every which way.
Cleaner – Hey maybe it wasn't us that called you. There are a lot of companies like us out there.
Lee – Well, you're here so it must have been your company.
I heard his phone ringing for a while and he picked it up. He handed me the phone telling me that I could talk with his company about it. There was a woman on the phone that I told much the same story to. I gave her my real name and phone number and she said something like she'd look into it or remove me from their list or something. As we spoke on the phone, the cleaner got more agitated and I ended up talking to him more than the woman. He took back the phone and we talked more.
The cleaner was getting angry that I had photgraphed his truck and said he wanted the pictures back. I saw it was getting ugly and thought to turn on the video function of my camera.
Watch the video. NSFW: profanity:
Pay particular attention where at 1:13 in the video the cleaner commits assault, gesturing angrily and saying, "I'm gonna screw your ass. I know where you live. Ok bitch?"
Here is the contract from the video that the guy was so adamant about not giving me. (right-click to view a legible size)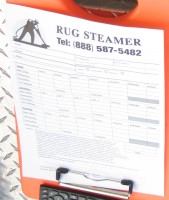 Notes:The back of the truck has the email address  scrtysiltns@yahoo.com on the portable job box. It's a Ford F-150 pickup truck, white with orange near the bottom. California licence plate 8T12730.
The invoice he kept waving at me has the following written on it "Rug Steamer  Tel: 888-587-5482"
Maybe I'm off their telemarketing list. It's definite that their value proposition for using illegal telemarketing has decreased.
Update 12-10-09: I haven't gotten a call from them in months. I think I'm finally off their list :-)