Recently we've tried some kids' toothpaste. I'm surprised at the results!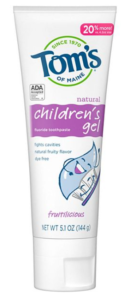 Tom's of Maine Children's Fruitilicious Gel – The previous tubes we bought were great but the latest batch from Amazon has a chemically-bitter taste. I wrote to the company directly and they sent Tom's of Maine Outrageous Orange Mango and Tom's of Main Wicked Fresh. They both had the chemically-bitter taste, noted by both Abigail and I. We threw them out :-(
We tried Burt's Bees for Kids Fruit Fusion Flavor – It has a kinda pasty-gritty mouth-feel, and somewhat chemically-bitter taste. Threw out :-(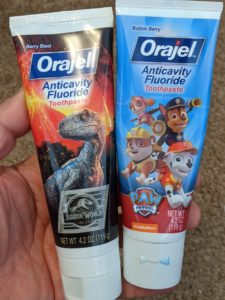 We went back to Abigail's favorite, Orajel Paw Patrol Bubble Berry. It has a moderately sweet, bubble-gum flavor and no chemical-bitter taste! We also tried Orajel Jurassic World Berry Blast. It has a fine flavor but Abigail still went back to the Bubble Berry.
What's up with the chemical flavors? Here are the ingredients in Tom's of Maine Children's Fruitilicious Gel: Sodium Fluoride 0.24%, Water, Hydrated Silica, Glycerin, Sorbitol, Xylitol, Benzyl Alcohol Sodium Laurly Sulfate, Xanthan Gum, Natural Flavor, Carrageenan, Rebaudioside A
I'm guessing stevia, which has a chemical aftertaste, is hidden in the ingredients under "natural flavor". What do you think?