In 2016, I had a central retinal vein occlusion (CRVO) in one eye and macular edema and crosshatching in my vision to go along with it. I was treated with Avastin (that's the brand name, no one can pronounce the generic "bevacizumab"). I got monthly-ish injections into my eyeball (yeah, squick! but it worked so…!) for a year and my vision returned to 95% normal, hurray!
On April 10th, I started having macular edema again and it was scary business. I made it to the eye doctor last week and got treated Monday (effing insurance wouldn't cover a "same day pre-approval" so I had to be increasingly blind over the weekend). I am VERY happy to say that my eye has gotten much better over the past 3 days! Wow, what a huge relief! I've got more eye injections coming up and I'm fine with that! It is wonderful that this procedure exists! Until about 20 years ago, this condition was mostly untreatable and I'd have gone blind just like that. Now there is a safe and easy procedure to address it!
Macular edema makes everything look like you're seeing through bullseye glass. I was watching a movie last week when the camera angle switched to looking through a window with bullseye glass. I panicked because all of a sudden BOTH of my eyes had the same view of the world!
To track my vision changes, I put up this eye chart in my office. On the 21st, I could read to line 3 "20/70 vision". Today I can read to line 6, "20/30 vision" Woo hoo!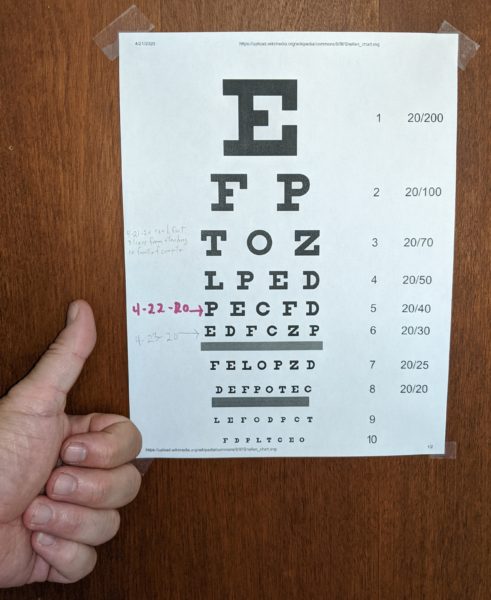 Oh and my sister-in-law Roanne has been of great help! She's a professor of optometry and has helped me and held my hand from the beginning! Thanks Ro!