The art of Burning Man will take over an entire gallery at the Smithsonian Institution for 6 months in 2018! This is the first major national exhibition to focus on the event.
No Spectators: The Art of Burning Man
Grand Salon, Renwick Gallery (Pennsylvania Avenue at 17th Street N.W.)
March 30, 2018 — September 16, 2018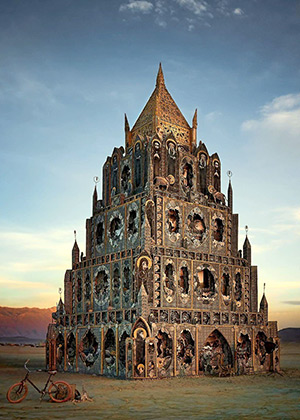 Each year in Nevada's Black Rock Desert, a city of more than 70,000 people rises out of the dust for a single week. During that time, multi-story art installations and buildings are erected and many are burned to the ground. Dedicated to principles of radical self-expression, decommodification, communal participation and a reverence for the handmade, the thriving temporary metropolis known as Burning Man is a uniquely American hotbed of artistic ingenuity and one of the most influential events in contemporary art and culture.
No Spectators: The Art of Burning Man is the first major national exhibition to focus on the large-scale, participatory work from this annual event. The exhibition will take over the entire Renwick Gallery building, bringing alive the maker culture of Burning Man through artworks, immersive room-sized installations, jewelry, costumes and ephemera that will transport visitors to the gathering's famed desert city and highlight the ingenuity and creative spirit of this cultural movement. Photographs and archival documents drawn from the Burning Man Archives at the Nevada Museum of Art will trace Burning Man's growth and its bohemian, counterculture roots.
The exhibition will include works by David Best, Candy Chang, Marco Cochrane, Five Ton Crane, FoldHaus Collective, Michael Garlington and Natalia Bertotti, Hybycozo, Aaron Taylor Kuffner, Christopher Schardt, Leo Villareal, Richard Wilks and others. Several installations were featured at previous Burning Man events, while installations by David Best, Natalia Bertotti and Michael Garlington, and Five Ton Crane will be commissioned specifically for the Renwick's presentation and will debut in the exhibition.
Nora Atkinson, the museum's Lloyd Herman Curator of Craft, is organizing the exhibition in cooperation with Burning Man Project, the nonprofit organization responsible for facilitating and extending the culture that has issued from the Burning Man event into the wider world.
The Renwick Gallery and Burning Man share a dedication to exploring contemporary maker culture in the United States and the vital role that creativity plays in innovation, connection and community. They are both creative laboratories where innovators go to play and to push the boundaries of their art.

— Nora Atkinson, Lloyd Herman Curator of Craft