Automotivetouchup.com Review: Terrible.
My car got some scratches in September. I tried a scratch repair kit that I found online,  Automotivetouchup.com. Their website looks professional but don't be fooled.
The instructions for how to apply the paint were mediocre, especially considering they spent the effort to make a pile of good looking 30-second-long "look how easy it is!" videos enshrined on their website that skip steps to entice suckers. Go ahead and take a look at their instructions. (local copy)At a glance they look alright enough but read them closely. Could you actually follow them? Compare the instructions to their jazzy promo video on the subject.
The color match was poor. See these before and after photos (click to enlarge)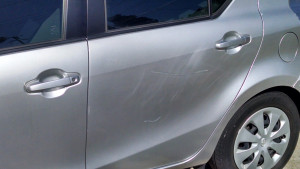 Their customer service was nonexistent. I sent them messages on their website on 10-13-15 and 10-24-15 asking for help and I got no response.
Today I googled "Automotivetouchup.com review". Ugh. They get embarrassingly bad  reviews from  resellerratings.com. 33 reviews, 3.6 out of 10. Poor reviews for their product and customer service. I don't have time to deal with this crap.
I know that scratch repair paints aren't miracle cures. I was just astounded at how hard they are working at making a poor  consumer experience.