What I learned on Imgur today:
Slow motion close up of a steel cutting tool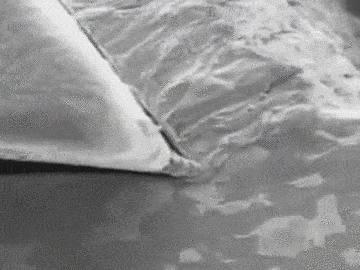 Those little splotchy marks on the metal being cut are grains. The boundaries between grains is where cutting is preferred. Notice how the tool doesn't do the cutting, rather the material being cut creates a dead zone in front of the tool and does the cutting, increasing tool life. When this buildup breaks away, a burr is formed. Also, the shavings that are formed during cutting tell a lot about the quality of cut and if the rake angle, speed or feed of the cutting must be altered.