In case you were thinking of trying Funginix, I would suggest that you not give those scamming scammers any money. Their website looks pretty but if you read it closely at all, you can see that they sound more like snake oil salesmen than sellers of a medical product.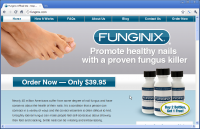 Their website is ridiculous. Let me count the crock of shit ways these scammers are trying to scam you:
"FUNGINIX is the most sophisticated and complete topical treatment created to fight and eliminate the fungal infections" — Umm, no. It's some guy in a basement. "Sophisticated"? To claim that means you spent millions on developing it. And if you spent millions developing it, you wouldn't use the word "sophisticated".
"Only FUNGINIX has been thoroughly tested to guarantee that it kills fungus and will promote the restoration of healthy nails in a fungus-free environment" — What bullshit ad copy. There are a hundred products out there, some put out by big pharmaceutical companies. And Funginix (which is only available on some website) is the ONLY product that works? And I've got a bridge to sell you.
The first "testimonial" starts out "This product is ABSOLUTELY FABULOUS!" First, what consumer ever uses the word "product"? Next, her mug shot is from iStockphoto.com.
I could go on. For a long time.
But let's cover some facts. Here are the claimed ingredients from their website:
Ingredients
Active Ingredient:
Undecylenic Acid, USP 10%

Other Ingredients:
Water
Prunus Amygdalus Dulcis (Sweet Almond) Oil
Oleth-10 Phosphate
Triethanolamine
Polysorbate 20
Acrylates Copolymer
Glycerin
Propylene Glycol
Uva Ursi (Bearberry) Extract
Beta-Glucan
Propolis Extract
Aloe Barbadensis Juice
Tocopheryl Acetate (Vitamin E)
Camphor
Menthol
Melaleuca Alternifolia (Tea Tree) Leaf Oil
Lavandula Angustifolia (Lavender) Oil
Jasminum Officinale (Jasmine) Oil
Eugenia Caryophyllus (Clove) Flower Oil
Theobroma Cacao (Cocoa) Seed Butter
Rosa Canina (Rose Hip) Flower Oil
Cetyl Hydroxyethylcellulose
Ethylhexylglycerin
Phenoxyethanol
The first ingredient, Undecylenic Acid, USP 10% is a common antifungal. It does not cost $40 per 1/2 ounce! All the other ingredients, meh.
Short form: scam.
I don't have any easy answers but you might want to check out all the other (real) posts and comments on my site about my battle  with nail fungus.