Schuyler's Kickstarter project is running! Friends, family and even some total strangers have helped Schuyler start his blacksmithing portfolio!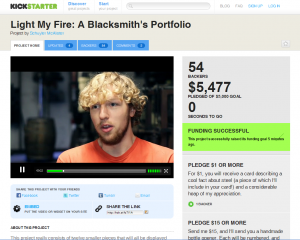 "With your help, smithing will become my full time job next semester. And the portfolio that you have helped me build will be the key to my success after the Kickstarter funding has run out."
Awesome!
————————————————–
ABOUT THIS PROJECT
This project really consists of twelve smaller pieces that will all be displayed together in my portfolio. I want to make a wide variety of pieces that will show off all my skills as a blacksmith, while helping me improve old skills and learn new ones.
The first three projects I have planned all go together. They are a fireplace grate, set of tools, and screen that all coordinate. The grate will be a bowl shape, and be made of branches shooting out of the base and twisting around each other, with lots of forged leaves for detail. The tool set will have similar branches for the handles, and the screen will follow the motif with more forged leaves.
I will also be making a hanging wall garden, a Damascus steel knife, a set of table legs, and two abstract sculptures. The final project I hope to be something quite grand, and I have a few ideas. However, it will be the privilege of my backers to help me decide what to make in the end.
The money I raise with Kickstarter will go towards the costs of materials, transportation to and from the shop, and room and board for the duration of the project.
————————————————–
PLEDGE $1 OR MORE
For $1, you will receive a card describing a cool fact about steel (a piece of which I'll include in your card!) and a considerable heap of my appreciation.
1 BACKER
PLEDGE $15 OR MORE
Send me $15, and I'll send you a handmade bottle opener. Each will be numbered, and signed. Enclosed with the openers will be a cool fact about steel, and a thank you note.
28 BACKERS
PLEDGE $30 OR MORE
If you're generous enough to send me $30, I'll be happy to screen print you a t-shirt bearing my anvil logo. The shirts are black American Apparel, and the graphic is a white circle centered on the chest, defining an anvil in its middle. Each of these will be slightly different, so get lots!
10 BACKERS
PLEDGE $150 OR MORE
This is a big one: for $150, I will personally make you a knife. Like the bottle openers, they will be numbered and signed, and like all rewards, will include a thank you note.
10 BACKERS
PLEDGE $2,000 OR MORE
Thank you so much for deciding to contribute such a substantial amount! In return, I would like to make you a replica of any piece out of this portfolio project. The piece you choose will be sent with a t-shirt and a more sincere thank you note than you have ever read in your life.