Charlotte and I had a bad pint of Ben and Jerry's ice cream a little while back. From my letter:
On about 4-15-09 my girlfriend and I bought a pint of Chocolate Chip Cookie Dough at the convenience store at…

We found that it had less chocolate chips and cookie dough than we've had in the past. We weren't very happy with it.

We know that you make a fine product and this was probably an anomaly but we thought you should know.

Thank you…
I included a photo of the ice cream we ate.
Last week I got back this letter.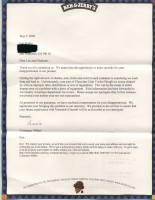 …and Annie (from the letter) included 2 coupons a free pint of Ben and Jerry's and a $0.55 coupon off any Ben and Jerry's product.
This is a fabulous letter. Why? Because it turns a problem into an opportunity for them to make me into a customer for life.
Let me count the ways:
The letter is signed, in ink, from a real person. That makes everything personal.
The first thing Annie did was acknowledge the problem. (I might have opened with a brief apology but their approach works too)
It looks like Annie actually read my letter. She mentioned my problem directly. This wasn't a form letter.
They made amends, not just with a replacement but a second coupon to ease me back into paying money for ice cream. It's a  110% guarantee. Nice!
The letterhead shows their excellent branding, the design all the way around the edge of the sheet is fun and welcoming.
She told me that my information was being forwarded to Quality Assurance. This makes me feel like my letter will actually be productive and help them make a better product. Since I obviously care enough to write a letter, I appreciate helping to make the thing I love better.
They put their phone number, web site and mailing address at the bottom. They obviously don't mind if I call again… the communication channel is open. They like me. They really like me.
This is the kind of stuff I have read about in Dale Carnegie's "How to Win Friends and Influence People" and Malcolm Gladwell's "The Tipping Point".
Ben and Jerry's has great customer service. I should remind you, the reader that Ben and Jerry's is owned by Unilever, a multi-national conglomerate with 174,000 employees. They are, by some accounts "a big evil corporation". Well darn it if we don't need more of them!