I got an iPhone 3G for Christmas (thanks mom & dad!)
Why must things be hard?
I had to google for 15 minutes to find instructions on putting my own ringtones on my phone. Most of the instructions started out, "Apple doesn't allow changing your ringtone so you'll have to jailbreak your phone. Just follow these 20 geeky steps and you'll be playing ringtones in a few hours (until Apple cracks down on this method)". So much for Apple being "clearly superior". Well, in any case, here's how to put your own ringtones on your iPhone 3G EASILY. I have iTunes 8.0.2.20 and this procedure worked fine:
Video on CNet: Make iPhone ringtones with iTunes 8.0
Short form:
Make an AAC sound file with iTunes "Advanced | Create AAC Version"
Drag the new file out of iTunes onto your desktop
Remove the sound file from iTunes (but don't delete it)
Rename the sound file from *.m4a to *.m4r
Drag the file into iTunes and it will appear in a new "Ringtones" folder.
Sync your iPhone, go to your iPhone and you'll see it as a ringtone choice.
Update 10-16-09: Look below,  modelwhisperer's comment and/or ashlieaxandike's comment  may help you get this working. Please comment and tell us what works for you!
Update 5-28-10: I had to reinstall Windows recently. I successfully put more ringtones on my Win XP, iTunes 9.1.1.12.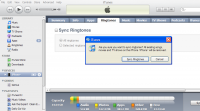 Some notes: Make sure you have selected "Sync Ringtones" on the Ringtones tab of the iPhone Device. See the image.